Ned Gallagher:
What I'm Up To
End of Winter (Hopefully) 2023
---
The New Normal
This winter I have had to adjust to the reality that I lost my father in the first week of 2023. While those closest to me were aware of this, it is not something I have talked about widely in my day-to-day existence. I did, however, post something on Facebook, which I will share here: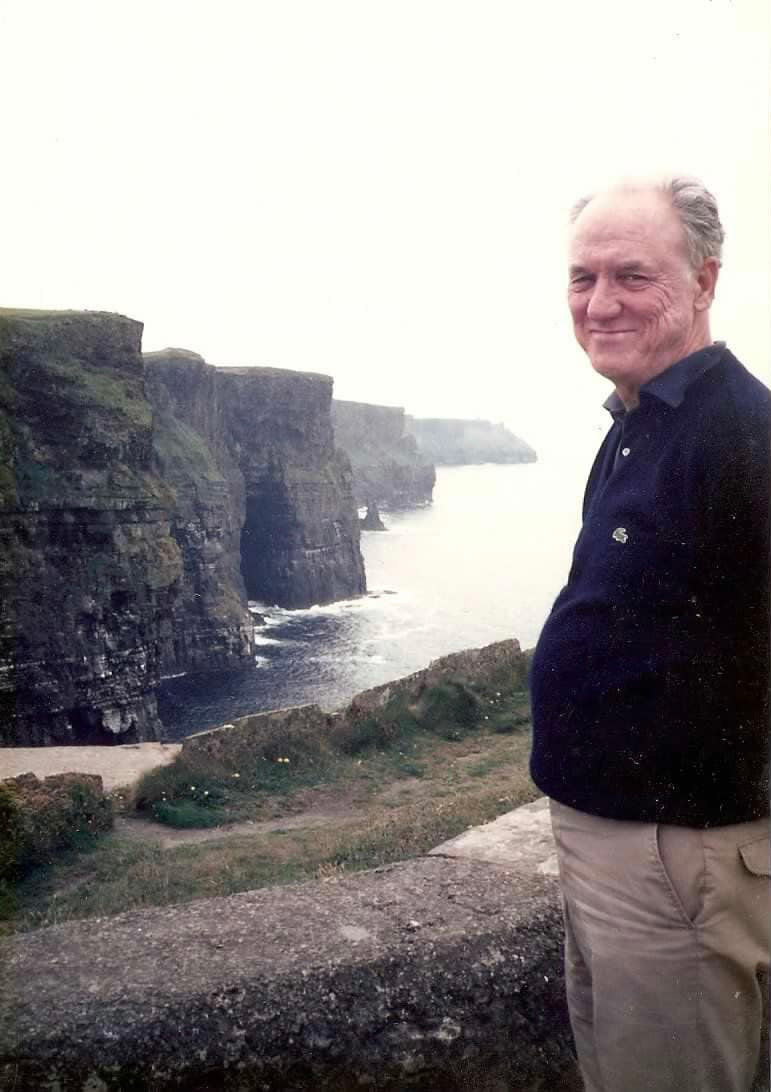 My dad, Ed Gallagher, left us on January 4, just a few weeks shy of his 93rd birthday. His transition was peaceful and pain free, at home, surrounded by his family. My heart is broken, but I am grateful we had so much time together in this world. And it was a blessing to have shared lengthy conversations with Dad in his final days. He reckoned he had "lived a great life." As the son of immigrants from County Donegal, Ireland, the arc of his life was in many ways the ideal of the American Dream. And he genuinely cared about things like equality and justice. I could never possibly repay my Dad for everything he did for me and the rest of our family. He was and always will be the most important man in my life. Dad, I am so proud to be your son. I will love you forever.
I think about Dad many times every day. There are particular events, like the State of the Union address or Australian Open tennis, when I find myself looking forward to hearing his take, and it suddenly hits home how much I miss him. Support from family, friends, colleagues, and neighbors has been wonderful in easing my sense of loss a bit.
While no other news from this winter can compare to that development, here are a few quick highlights of what has been going on in my world:
After a two-year hiatus due to the pandemic, the school resumed its annual DC field trip for students in the government program. In addition to meeting with a handful of U.S. Senators and Representatives, as well as others in and around government service, we had a lovely alumni event at the Army and Navy Club, wherein our kids got to spend time with Washington-area grads from all walks of life. This edition was as good a trip as we have had in the many years I have been involved with it.
I bought an upright digital piano at the end of last year. Now I have to spend some time working my way past the hunt-and-peck approach to getting music out of it. I am happy that it is MIDI-capable, which means I can connect easily to Garage Band and other programs on the Mac or iPad to get truly creative.
I have been active with online coursework since the start of the year: Tuesday nights studying Chinese history at Stanford, Wednesday nights studying the American Tradition at the University of Chicago, and Thursdays tackling the Middle Ages (also U of C). That's a lot of time in class (each of which runs either two hours or three and a quarter) as well as a lot of reading, but keeping busy has been good for me the past two months and I have been enjoying (most of) what we have been exploring.
---
What I'm Reading
Working On Now:
Fintan O'Toole, We Don't Know Ourselves: A Personal History of Modern Ireland
Steve Berry, The Last Kingdom
Simon Cambers and Simon Graf, The Roger Federer Effect: Rivals, Friends, Fans and How the Maestro Changed Their Lives
Christopher R. Beha, The Whole Five Feet: What the Great Books Taught Me About Life, Death, and Pretty Much Everything Else
Recently Finished:
Steve Martin, Number One Is Walking: My Life in the Movies and Other Diversions
Hector Garcia and Francesc Miralles, Ikigai: The Japanese Secret to a Long and Happy Life
On Deck:
Joan Didion, The Year of Magical Thinking
Pauline Maier, Ratification: The People Debate the Constitution, 1787–1788
For Courses I'm Taking This Winter:
Jonathan Spence, The Search For Modern China
Ralph Waldo Emerson, Essays
The Bhagavadgita in the Mahabharata
Henry David Thoreau, Walden
Alexis de Tocqueville, Democracy in America
The Letters of Abelard and Heloise
Bernard of Clairvaux, On the Song of Songs
Rumi, Swallowing the Sun
The Poetry of Petrarch
Victor Nabokov, Lolita
De Lorris and de Meun, The Romance of the Rose
Christine de Pizan, The Book of the City of Ladies and Other Writings
For Courses I'm Teaching This Winter:
Joseph Conrad, Heart of Darkness
André Gide, The Immoralist
Franz Kafka, The Metamorphosis
Virginia Woolf, Mrs. Dalloway
Michael Lewis, The Fifth Risk
---
What I'm Watching
Ongoing—Television:
The Circus: Inside the Greatest Political Show on Earth, season 8 (Showtime)
Shrinking (Apple TV+)
Star Trek: Picard, season 3 (Paramount+)
The Last of Us (HBO Max)
The Bad Batch, season 2 (Disney+)
For All Mankind, seasons 1 & 2 (Apple TV+)
Doom Patrol, season 1 (HBO Max)
I Hate Suzie, season 2 (HBO Max)
Hello Tomorrow (Apple TV+)
Stonehouse (BritBox)
Recently Finished—Television:
Toast of London, seasons 1–3 (BritBox)
McCartney 3, 2, 1 (Hulu)
Blood and Treasure, seasons 1 & 2 (Paramount+)
The Recruit (Netflix)
National Treasure: Edge of History (Disney+)
Break Point (Netflix)
Jack Ryan, season 3 (Amazon Prime)
Baptiste, season 2 (PBS)
On Deck—Television:
The Mandalorian, season 3 (Disney+)
Lucky Hank (AMC+)
Recently Finished—Films:
The Day the Earth Stood Still (d. Robert Wise, 1951)
You People (d. Kenya Barris, 2023)
The Blue Kite (d. Tian Zhuangzhuang, 1993)
Sharper (d. Benjamin Caron, 2023)
Ant-Man and the Wasp: Quantumania (d. Peyton Reed, 2023)
What About Bob? (d. Frank Oz, 1991)
Triangle of Sadness (d. Ruben Östlund, 2022)
A Man Called Otto (d. Marc Forster, 2022)
White Noise (d. Noah Baumbach, 2022)
Guillermo del Toro's Pinnochio (d. Guillermo del Toro & Mark Gustafson, 2022)
Pelosi in the House (d. Alexandra Pelosi, 2022)
Glass Onion: A Knives Out Mystery (d. Rian Johnson, 2022)
The Northman (d. Robert Eggers, 2022)
The Whale (d. Darren Aronofsky, 2022)
The Menu (d. Mark Mylod, 2022)
Avatar: The Way of Water (d. James Cameron, 2022)
Empire of Light (d. Sam Mendes, 2022)
---
What I'm Listening To
Music:
Sting, Ten Summoner's Tales [Expanded Edition]
Eric Lu, Chopin: 24 Préludes
Brandi Carlile, The Eye
Podcasts:
Continuing The Conversation
Audiobooks/Radio Dramas:
John Meachum, And There Was Light: Abraham Lincoln and the American Struggle
Quentin Tarantino, Cinema Speculation
---
What I've Been Attending
online seminar: "The Mao Era in Chinese History," University of Colorado, National Consortium for Teaching About Asia, January & February
St. John's College Teachers Institute seminar on Herodotus, Inquiries, online, February
---
Where I'm Traveling
Recent Trips:
three-day field trip to Washington, DC, with the school's government classes, January
---
What I'm Learning
---
What I'm Looking Forward To
firing up my new (hand-me-down, actually) grill on my back patio once the weather gets warm
tennis season
---